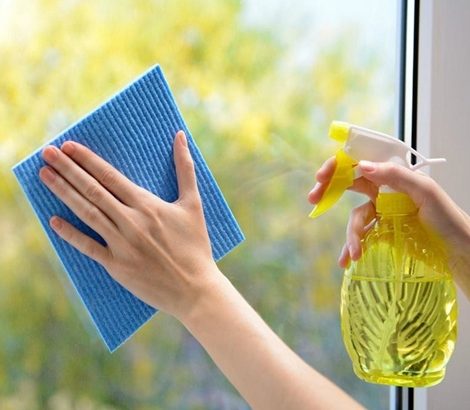 Avoid cleaning glass while it is in direct sunlight, especially tinted and coated surfaces, to prevent streaking.
Start cleaning windows at the top of the building and continue to lower levels.
Soak the glass surface with clean water to loosen dirt and debris. Make sure no abrasive particles remain on the glass, then apply an approved cleaning solution with a non-abrasive cloth or other applicator.
Quickly remove the cleaning solution with a squeegee, taking care not to allow metal parts of cleaning equipment to touch the glass surface.
Avoid any cleaning product that has a strong chemical base or a high alcohol content, as chemical reactions could damage components.
Wipe any remaining traces of cleaning solution from glass and other parts of the window and frame. Windows, including their parts and frames, are susceptible to deterioration if left damp.
Some windows have an energy panel, often confused with a storm window. An energy panel is a removable, exterior glass panel and can be cleaned in the same way as other parts of the window.
Don't use abrasive cleaning solutions or materials, don't allow metal parts of cleaning equipment to touch the glass, and don't use scrapers of any kind.
Note: Glass scratched by a scraper is not covered under the Marvin warranty.