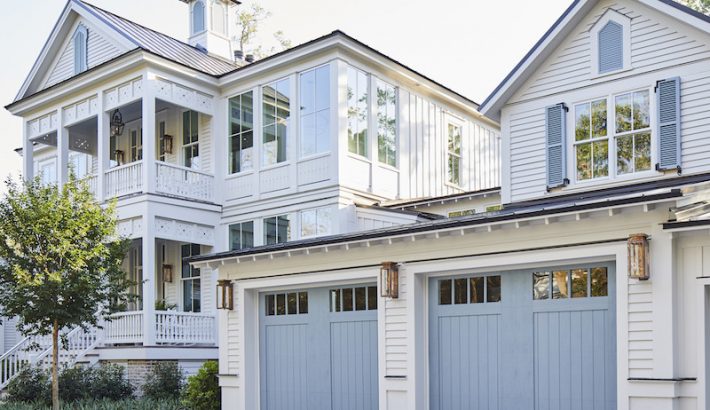 Inspired by the region, the 2019 Southern Living Showhouse is a perfect example of traditional Florida architecture that creates an easy flow between the indoors and out.
Perched on an ideal spot along Florida's intracoastal waterway, this year's showhouse on Amelia Island has all the classic touches of a Southern Lowcountry home with island influences: high ceilings, expansive porches, and plenty of wide hallways to welcome gentle breezes. The layout encourages indoor/outdoor living and lets natural light fill the home throughout the day.
This light-filled home was exactly what architects Jim Strickland and Clay Rokicki of Historical Concepts had planned. "Many of the old houses in Amelia Island have a very Victorian feel with wooden porches with highly-styled railings," Rokicki explains. "We wanted to blend that with a simpler and more classic Lowcountry archetype of houses with big porches and big bright rooms."
With that plan in mind, the architects prioritized doors and windows as they developed the home. Because of the array of sizes and styles available, Marvin products were their first choice. They needed wide doorways that allowed for an easy flow between the interiors and the oversized porches—like the enormous Marvin Signature Ultimate Bi-Fold Door in the living room that opens up to make the back porch feel like an extension of the room.
"From the initial conception, we really wanted to blow out that back wall for a spectacular look and make the porch feel like part of the living space," Rokicki explains. "And since Marvin doors can go up to that 10-foot height unit—you can dream big, and it is very achievable."
They also sought to maximize the natural light throughout the house. Nowhere is this more apparent than in the main stairwell. "The amount of windows we were able to put in this stairwell was really amazing since Marvin had such a variety of sizes," Matt Birdwell, Director of Building Operations for Riverside Homes, says. "The nice result was that a utility room—that's often dark or drab—actually got light from two sides." The architects installed interior transom windows to flood light into these hard-to-reach spaces.
The design also called for large windows that could frame the views of the waterways, the big oak trees and charming, local Spanish moss.
The large windows really shine in the main dining room where the 9' Ultimate Double Hung G2 windows from Marvin's Signature Collection offer unparalleled views of the water and easily open so the homeowners can enjoy all the beauty of island living.
"In Victorian and Lowcountry architecture, you see a lot of these large double hung windows," he adds. "The balance between having a traditional design and maximizing the view adds a special feeling."
Article originally appeared in Southern Living. Photos by Laurey W. Glenn.