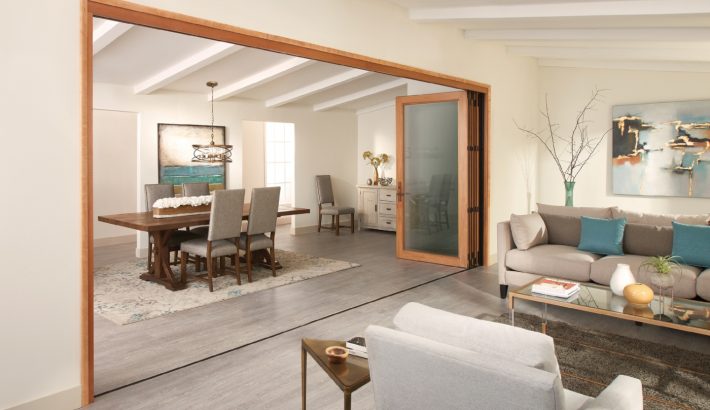 A veteran architect offers thoughtful tips on how to plan for generational needs.
32 inches.
That's the clear width of a typical household doorway. What happens if you add 4 inches to that clear width? For starters, you gain more light. More accessibility. More convenience. More of everything that may be important to a multigenerational family.
That's just one of the residential design ideas of architect Scott Rappe, AIA, principal of Kuklinski + Rappe Architects, in Chicago.
Rappe and his team of three architects have earned an award-winning reputation for creative, practical residential design solutions. Call his aesthetic "inspired constraint." His team excels at transforming often overlooked space into something warm, fresh, and unexpected.
To better understand his team's universal design approach, consider a few of his ideas:
1. First-Floor Bedroom. "On almost every project we end up planning for a future master bedroom and bath on the ground floor," reports Rappe. The architect explains the space may be initially disguised as the family room or some other use near-term. Even if age isn't currently an issue, knee, hip, and ankle injuries can often make a first-floor bedroom a welcome convenience.
2. Wide Hallways. Rappe says there's a belief by some that hallways should be short and narrow as possible. He takes a contrarian view. "Hallways are spaces that we live in. We try to size hallways so they're pleasant—so art can be displayed and children can play in them. The side benefit, of course, is they easily accommodate a wheelchair or walker," Rappe says.
3. Clerestory Windows. One way to enliven a space with light and shadow is with clerestory windows. "What is neat about them versus a skylight is you don't get the direct vertical sun. It changes all day long," Rappe says. "We recently installed clerestory windows using a Marvin direct glaze window unit. They were perfect for the application."
4. Bedroom Alternatives. To avoid children "fleeing to the bedroom to escape," Rappe encourages more family interaction by creating spaces for them, like a hallway with an alcove or built-in desk. This also means you can monitor the children's computer use, more easily help with homework, or call them for dinner.
5. Basement-Free. Eliminating basements to build homes at-grade creates a huge accessibility advantage, especially for aging residents. "That allows us to specify low profile thresholds. You can roll right in the front or the back. You can even put in an inner courtyard," suggests Rappe.
6. Big Doors. Rappe likes alternatives to building walls and partitioning the house. He may specify pocket doors, for example, as a space divider or privacy-maker. For dividing adjoining interior spaces, consider a Marvin Wood Bi-Fold Door that spans up to 55 feet. The door sill is level with the floor, so it's a family-friendly solution for walkers, wheelchairs, and even potential fall hazards for little ones.
For Rappe and growing ranks of architects, the residential design horizon is decidedly long-term. "The secret is to have enough margin for the family to adapt as needed without overbuilding," says Rappe.