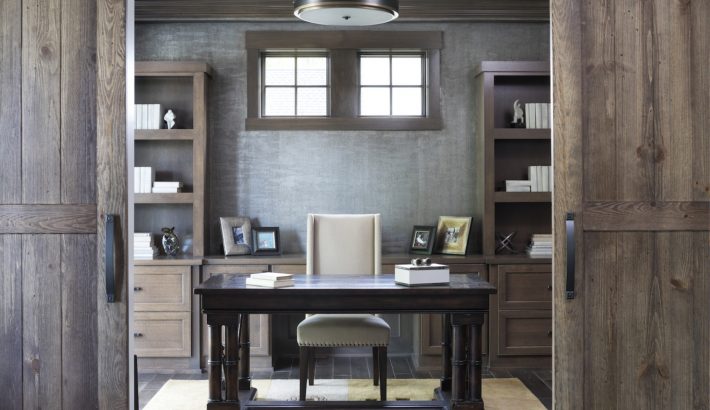 For those with the shortest commute of all, these dedicated home office spaces make the daily grind a little less grim.
Increasingly, homes are becoming flexible spaces that can accommodate work time, exercise time and meditation time with equal ease. Though sometimes a lap and a couch might be the most convenient desk, having a dedicated workspace that provides respite from distraction can help perk up productivity. When they're designed without disrupting the aesthetics of a space, a well-planned home office can become an extension of a home's personality.
From tropic coastal to industrial chic, these five unique home office spaces truly embody "outside of the cubicle" thinking.
Industrial Chic meets Vintage Farmhouse
Tucked away in a unique home by Emerick Architects and Right Angle Construction, this home office set-up blends vintage decor with industrial-style black windows. Custom wood built-in filing and storage cabinets provide plenty of storage, and white wood floors reflect the natural light to keep this space bright and airy.
Tropic Coastal Energy
Whether the views outside of these double hung windows are green or snowy, this tropical home office brings coastal vibes to any work session. A bold wallpaper print creates an immersive getaway, and a comfortable couch offers the perfect reading nook.
Tranquil and Transitional
This light-filled home office is French countryside with a transitional twist. Dark and moody gray is balanced with bright outdoor views and an open, vaulted ceiling. And when it's time for a coffee break, a swinging French door offers easy access to a sunny patio.
Lodge-Style Luxury
Anything but your typical home office, this rustic space evokes the feeling of a remote outdoorsy getaway without having to leave home. The double hung windows blend into the hand-hewn wood walls, and an antler chandelier and rich leather chair bring a touch of luxury. The reward for a day of hard work? Getting outside to enjoy those lush views.
High Contrast Color
Flanked by bold red walls, this double work station helps beat those dull Monday blues. Crisp white built-ins add an element of contrast and help keep clutter out of sight while also anchoring the space. Up high, awning windows allow for breeze and remind that the sun awaits.
Whether you gravitate towards a more traditional or more eclectic workspace, offices are an easy way to flex the square footage of your home. Let these spaces inspire you to rethink how much you could accomplish.