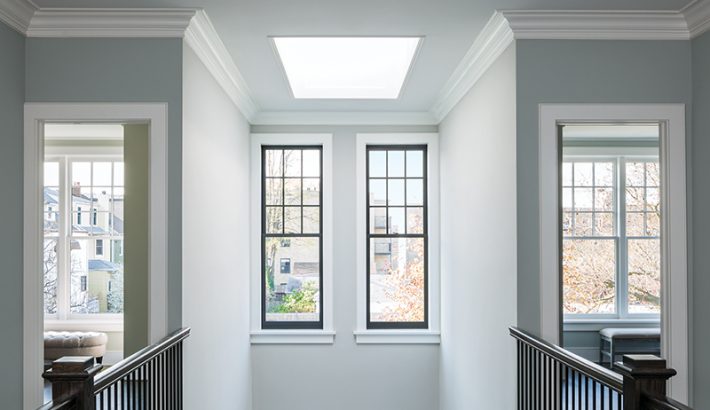 The new design rules are that there are no rules, even when it comes to painting your window sash and frame in contrasting colors. 
Whether you're going through the window replacement process, remodeling your home or building anew, there are endless options when it comes to how to paint, stain or finish the items in your home. Though you might assume that a monochromatic scheme is the only choice for windows and window trim, experimenting with contrast might open up new possibilities.
With the renewed popularity of the industrial-chic aesthetic and black steel factory windows, many are seeking thin, clean lines and the contrast of darker window sashes to frame their view. At the same time, white walls are also gaining popularity to create a sense of simplicity and space.
Enter the Mixed Finish Trend
The mixed finish look is often achieved by using a dark paint or stain on the window sash, while the surrounding framing is painted to match the walls around it.
What exactly is a sash, you say? The easiest way to think about a window sash is that it's the part of the window that houses the glass, and it's also the part of the window that moves with the glass if the window opens and closes. The frame or casing is an additional layer of stationary trim that frames the window opening to provide a finished look.
To make the mixed finish trend easier to achieve, products in the Marvin Elevate Collection are now available with mixed finish options applied in the factory to eliminate the time usually required to finish and paint on the job site. Choose from bare pine, clear coat, designer black or prefinished white, mixed and matched on sash and frame to create a uniquely contrasting look.
Designer Mary Douglas Drysdale sees the use of contrast as a bold design choice that can help individualize your space. "Color and pattern enliven and actually allow you to see space and its details in new ways," she says. "This renewed interest in contrast reflects a more daring idea about design."
Not in the market for replacing your windows but still want to dabble in this latest design trend? Our friends at This Old House have a few tips on painting existing windows to achieve the mixed finish look.