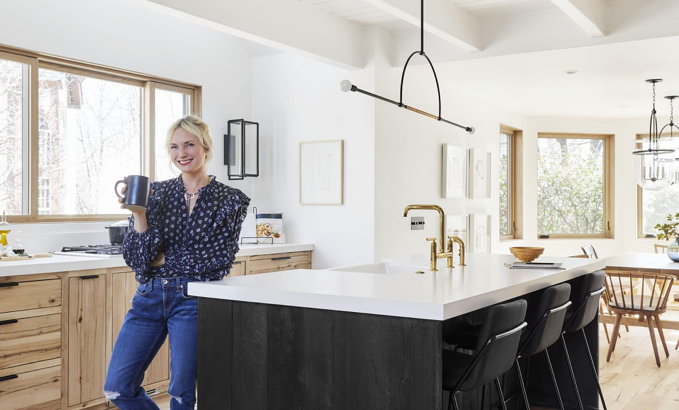 Stylist, designer and blogger Emily Henderson reveals her expert tips.
For most of my career as a stylist and designer, I never touched windows outside of covering them up with draperies. I didn't have to as I wasn't doing any major renovations. That is until I worked on a project last year in the Pacific Northwest—a high-end investment property I partnered with my brother on in Portland. We put in a top-floor addition, so the existing windows needed to be replaced to match the new windows. Oh man, did I learn a lot about windows during this project. Luckily, I was also working on the overhaul of the mountain house my husband and I bought for our family and there were a few things I learned from the investment property that made a huge difference when I started replacing windows there.
While I'll dive into all the things you should consider yourself when replacing your windows next, first I want to share something I learned: windows are the eyelashes of the home's exterior facade. Stay with me here … a home "face" with run-of-the-mill windows is perfectly passable, but once you put those luscious lash extensions on, all of a sudden you've got yourself a confident beaut. Of course, the similarities between windows and lashes stops there as replacement windows are a far more stressful decision to make, but I promise it doesn't have to be. Here are six considerations I've learned along the way to help guide you on your replacement window journey:
1. Consider your environment.
First and foremost, always remember that all locations have different environmental needs. My LA house has different window needs than my house up in the mountain where it snows. Things to consider are moisture levels, altitude, temperatures (desert vs. coastal vs. harsh winters). One window does not fit all. Be sure to talk to a Marvin expert to help you determine what you need for your specific environment so your windows perform for years to come.
2. Think outside the (existing) box.
One of the most common oversights I see in renovations is people replacing their windows … for the same window. Yes, sometimes windows need to be swapped out for functionality or energy efficiency, but take a minute and consider what else you might be able to do. Is there something unique or special you can do instead that might work better for your design/how you use your house? For instance, in the mountain house kitchen, we moved the stove to the window wall and decided to put in a slider instead of a picture window to give us the option of opening that up should we need to. We also made the whole thing bigger to let in more light (always do this if you can because no one in the history of home design has ever said, "ugh, this house gets too much sunlight").
Another thing I'll add here is to get creative in trickier spaces. We took an existing attic play space that originally had no natural light and thought through how to add in a window because this lady loves her natural light. The roofline is very challenging, so we ended up taking a regular square window and rotating it into a diamond shape which worked great with the slope of the roof but also now feels like a magical moment in the kids' space.
3. Consider how the light would move through your house during the day.
Of course you can't always help this, but if you're a night owl or someone who struggles with sleep, putting a window in your bedroom on the eastern wall … not the best idea if you don't want light blasting through at 6 a.m. (when you don't want to wake up until 8). This is also a pretty big deal in a kid's room. Unless you want your littles jumping out of bed right at sunrise, carefully consider that window placement. The same goes for say, a dining room. The light can get pretty intense at 5 or 6 p.m. depending on the time of year for western-facing windows, and if that's a time you sit down for dinner with your family, maybe don't put a window where it might end up blinding you and your children.
4. Keep your home's style in mind.
When you're in the middle of a renovation, style paralysis can set in QUICK once you're faced with 10,000 decisions. It's very real and can feel like the human spirit can barely withstand such a process. But don't feel intimidated. I know it can feel overwhelming but breaking it down will make everything feel more manageable. For example, start by just identifying your home's architectural style and taking a bit of a deep dive on Pinterest or Google to see other houses in that same aesthetic. What kind of windows do they all seem to share? Gridded? Picture? Double hung? Bay? Also take note of the color of the window frame and what you're drawn to/feels natural to the architecture.
In the master bathroom of my mountain house (which used to be a narrow, windowless room that we turned into the kids room—don't worry, we added windows), there was a moment to add in a bay for the soaking tub my heart deeply desired. Being that the house is mid-century (built in the 1960s), we felt a grid-less bay of casement windows would best suit this newly added feature (I wanted an unobstructed view of the backyard but also the ability to open the windows if I needed to which is why casement windows are so great). Adding something with a 3×3 or 4×4 grid would have deceived the home's style.
5. Plan ahead (so you don't fall behind).
One of my biggest lessons I learned during the project I did in Portland is to ORDER YOUR WINDOWS FIRST. Windows can have a long lead time, so do not put off ordering them, especially if you want to keep a renovation project on track. I'm writing all about the order in which to think about things during a renovation in my next book, but for the sake of this post, it's important to know that you'll want those windows in before you close up your walls. It makes everything easier, and helps ensure your window frames turn out clean, correct and perfect.
6. Think of windows as an "investment" rather than "expensive."
"Windows are so affordable," said literally not a single person ever. I know. They are an investment, but replacing old windows will likely reduce high energy bills in both cold and hot climates, reduce mold in wetter climates, and generally have a positive impact on the way your home functions. It is also important to remember that windows are actually a structural component of your house, and an important piece to ensuring it stays sound for years to come. Windows are expensive, yes, but an investment that will help pay for itself in the long run? Also yes.
Photography: sara ligorria-tramp for ehd