When we talk about making a bold statement in bathroom design trends, we usually mention striking marble, walls of wallpaper or  colorful hand-painted tile. Those trends are all still going strong, but lately, bathroom designers and homeowners are making a statement with an old bathroom staple: the bathtub. Oversized, standalone tubs are gaining traction as statement pieces that – when coupled with expansive windows that let in morning light and soothing nature views – are equal parts fun and functional.
On the path to relaxation in a busy world, look no further than your favorite scented bubbles and these blissed-out bathrooms that have become part spa and part sanctuary thanks to larger-than-life tubs with equally impressive views.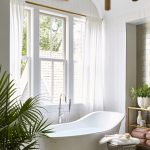 This spa-like bathroom features side-by-side Marvin double hung windows flanked by sheer curtains, making a soak in this tub worth savoring.