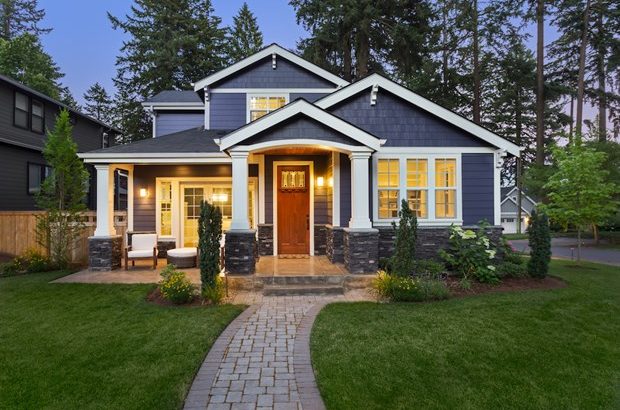 Windows and doors are the first impression of your home. They can enhance both the exterior and interior of your home drastically. However, old windows and doors can be an eyesore and might be costing you money. If it's time for an upgrade, make 2019 the year to replace your older windows, doors, or hardware.
Your windows and doors are important functional and decorative parts of the home. When looking for the best fit for your house, don't get overwhelmed by the options. Here are some of the top trends that 2019 has in store for windows and doors.
Windows
The windows in your home can impact many areas. A new window installation can give your home a much-needed facelift by improving your home's décor, curb appeal and efficiency. If this is an update you're going to be doing this year, start with your budget. The average cost to install windows is $4,516, with most homeowner spending between $3,207 and $5,252. This is the cost to add or install 5-10 windows, but the cost will change depending on not only the number of windows but also what style you choose.
Energy Efficiency
This year especially, homeowners are focusing on sustainability and how choices made inside the home will impact the environment. Most homeowners will opt to install new windows because they're not doing the basic function of keeping the cold air out in the winter and the hot air in the summer. If you have leaky or inefficient windows, you could be paying a higher utility bill than homeowners with new Energy Star certified windows.
Modern Fixed Windows
Big windows with even bigger views are the window goals for homeowners. This year expect to see more floor to ceiling windows with modern minimal frames. An inoperable fixed window will give homeowners uninterrupted views. This year's trend is to stay away from patterns or grids on the glass. The upside to having a fixed window is that you get more glass and won't have a need for a screen, the downside is that you won't have a functional window to open if you're looking to get a cross breeze or fresh air into your home. This style of windows works best in main living spaces on your ground floor. We suggest keeping any upstairs windows more functional.
Black Framed Windows
Cookie cutter white framed windows are on the decline now that matte blackis having a huge moment in 2019. Black framed windows will turn your new windows into a statement piece and work well with both traditional and modern homes. While white framed windows will always be in style and look timeless, houses with black window frames look up-to-date and fresh.
Doors
Your home's front door is the first impression of your home. Updating your door doesn't mean getting a totally new one. These trends will help you update your current door or persuade you to replace your outdated one.
Smart Door Lock
Have you ever left your home and couldn't remember if you locked the door? What about that time you couldn't reach your keys to unlock the door because your hands were full? Smart door locks work with your phone through Bluetooth and downloadable smartphone applications to help you out if you find yourself in those situations in the future. For more peace of mind, you can also install a ring video doorbell. You can see a live video of your door and sends you instant mobile alerts when someone presses your doorbell. You can even speak to them, through your phone, if you're not home.
Upscale Hardware
Not all doors need and should be replaced. Sometimes, just a change of the hardware is a small change that will make an impact on your curb appeal. Metallic details, like a new door knocker or knob, mixed with different finishes like natural wood are an up to date take on this trend.
Blue Door
With more homeowners looking to make significant curb appeal updates, you'll notice that front doors are getting colorful facelifts. While red has been a trendy choice in the past, 2019 is the year of the blue door. All shades of blue, from robin's egg to midnight, will be big this year. If blue isn't your color, you can't go wrong with another different bold color. Updating your door's hue is a great way to dress up an older door without a complete replacement.
Conclusion
Your windows and doors are an important feature in the home. While it may not call for a complete replacement, you might want to consider updating your windows to save on your utility bill or automate your doors, so you'll never question if you locked the door when you left the house.